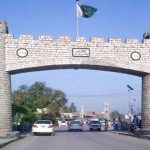 ISLAMABAD: Defence Minister Pervez Khattak says government is cognizant of difficulties faced by tribals but no individual or group will be allowed to do politics on the pretext of difficulties and problems faced by the people.
In a statement, he said all legitimate demands of tribal people are being met while remaining under the ambit of law and constitution.
He said nation and especially our tribal brothers and sisters and security forces of Pakistan have established peace in the country after huge sacrifices.