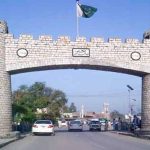 RAWALPINDI: Pakistan Army Spokesperson Maj Gen Asif Ghafoor Thursday said that the January 24 drone strike near the tribal areas had targeted an individual, who had morphed with Afghan refugees.
In a tweet, the director general of the Inter Services Public Relations stated that the strike in Spintal, Hangu District of Khyber Pakhtunkhwa was not on any organised terrorists' sanctuary — which have been eliminated.
"Out of total 54 Afghan Refugees Camps / complexes in Pakistan, 43 are in KP with overlap in FATA," said a press release shared by ISPR.
It said that the incident validates Pakistan's stance that the remaining terrorists easily morph into Afghan refugees' camps/complexes.
"Thus their early and dignified return to Afghanistan is essential. Pakistan's brotherly hospitality to peaceful Afghan Refugees must not be exploited by the terrorists," the press release stated.
Earlier today, Foreign Office (FO) Spokesperson Dr Muhammad Faisal said that Pakistan sticks to its stance that the recent US drone strike targeted an Afghan refugee camp near Kurram Agency.