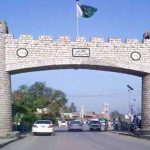 KARACHI: Prime Minister Shahid Khaqan Abbassi has emphatically stated that the democratic setup will stay intact for forward march of the country.
Inaugurating the first ever CCV cable and Aluminium Alloy Plant at Sundur Industrial Area in Lahore, he said there is no possibility of any judicial coup or martial law.
He said the next polls will be held in July this year in which people will elect their new government and the course of development will continue.
The Prime Minister said the present government has carried out historic work in different spheres, including infrastructure development and energy.
He said PML-N Gvernment added ten thousand megawatts of electricity to the system and started projects which will meet future energy requirements of the country.
He was confident that the development of infrastructure will give further impetus to bringing investment in the country.
He said the economy is expected to grow by five point six percent this year while for the next year our target is six percent.
Shahid Khaqan Abassi said the government is striving to provide an enabling environment to the industries.
He said first it is the endeavor of the government to sit with the opposition to set out an agenda for continuity and stability of policies so that the change of government does not hamper the industrial growth.