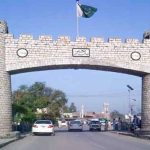 ISLAMABAD: Chief Justice of Pakistan (CJP) Mian Saqib Nisar on Monday said there was no possibility of a delay in the upcoming elections unless the Election Commission of Pakistan (ECP) became helpless.
Justice Nisar made the comment during the hearing of a case regarding electoral amendments, which was filed by the Workers Party.
All matters pertaining to elections must be completed on an urgent basis, the chief justice noted.
Director-general of Election Commission Pakistan (ECP) noted that the code of conduct was formed with consensus from all political parties.
The petitioner's lawyer maintained that the apex court had already announced a verdict on electoral reforms in 2012.
DG ECP informed the court that a new code of conduct for General Elections 2018 was formed after Election Act 2017 was passed.
The court then summoned a response from ECP on the code of conduct, to be submitted by the latter today.
CJP Nisar noted that the new code of conduct will be compared to its previous issue.
The hearing was then adjourned till Wednesday, with directives issued by the apex court for the formation of a larger bench.