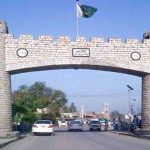 ISLAMABAD: The law ministry spokesperson has on Saturday clarified that no reference has been filed against the Peshawar High Court (PHC) Chief Justice, Waqar Ahmad Seth in the Supreme Judicial Council (SJC).
After Justice Waqar Ahmad Seth said in his remarks in the detailed verdict to drag former army chief General (retd) Pervez Musharraf's corpse to the D-Chowk and hang for three days if found dead, a news surfaced that Mehmood Akhtar Naqvi moved the SJC against the PHC chief justice to nullify the decision.
However, the law ministry spokesperson clarified that research work is still being done regarding the matter and no reference has been forwarded to the SJC. The attorney general has returned from Turkey today, he added.
It is pertinent here to mention that a special court in Islamabad had on December 17 sentenced former president and top military official Pervez Musharraf to death in high treason case.
A three-member bench comprising Justice Waqar Seth, Justice Nazar Akbar of Sindh High Court (SHC) and Justice Shahid Karim of Lahore High Court (LHC) had announced the verdict that was reserved on December 5.
Justice Nazar Akbar opposed the decision of sentencing Pervez Musharraf to death and cleared him of the accusations while Justice Waqar Seth and Justice Shahid Karim handed him the death penalty.