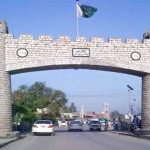 KHARAN: Prime Minister (PM) Shahid Khaqan Abbassi has rejected criticism on recently announced tax reforms package saying it is a landmark initiative to shift the burden of taxes from the poor lot to the affluent one.
He was addressing a ceremony in connection with the inauguration of two infrastructure projects in Kharan today.
The Prime Minister said it is the first time in the country's history that the income tax has been cut by more than half.
He said this will encourage the people to pay their taxes. He said the initiative will help generate sufficient resources in order to end reliance on others.
He said in fact there is no room for any quarter to raise finger on the tax reforms package.
He added the people of Pakistan had rejected politics of abuses and said that there would always be democracy in the country.
The Prime Minister said that Pakistan Muslim League-Nawaz (PML-N) has always worked for the benefit of people adding that Nawaz Sharif was synonymous with success.
He said that people have to make a crucial choice between two sides in the coming general elections saying one side comprises politics of serving people and truth while the other side was hurling abuses and lies.
He also expressed the confidence that PML-N would come into power again after upcoming general elections.