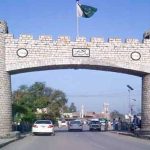 RAWALPINDI: Pakistan Muslim League-Nawaz (PML-N) leader Senator Pervaiz Rasheed on Thursday shared a message from the Sharif family, and said no jail sentence can stop them from achieving their goal and asked the people to vote for their party on July 25.
Talking to media after meeting Nawaz Sharif, Maryam Nawaz and Captain (R) Safdar at Adiala Jail, Pervez Rasheed lamented that today was the first time that Maryam Nawaz met her father, former prime minister Nawaz Sharif, since the two were arrested last week.
Rasheed said that he and other party leaders met the Sharif family today.
Rasheed stated that it is with a heavy heart that he informs the media that today is the first time the father-daughter duo met — a fact which he termed was against jail norms.
The senator claimed that the incarcerated Sharif family is in the exact same spirits as they were before being jailed.
Earlier, he criticised the alleged dual standards of justice, citing Pakistan Tehreek-e-Insaf chief Imran Khan's request to the National Accountability Bureau yesterday to appear before it in the helicopter misuse investigation after the election.
"Imran has the liberty to write his own judgments," he alleged further.
Rasheed also claimed that the ongoing electoral process is a selection and not an election, asking why the people's right to choose their own representatives is being usurped.