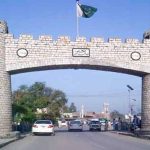 ISLAMABAD: Prime Minister Imran Khan on Thursday visited Inter-Services Intelligence (ISI) headquarters in Islamabad.
The prime minister was accompanied by Chief of Army Staff (COAS) General Qamar Javed Bajwa.
ISI chief Lt Gen Faiz Hameed received the Imran Khan upon his arrival.
During the visit, he was given a briefing on the internal and external challenges faced by the country.
PM Imran Khan was briefed on the situation pertaining to the coronavirus pandemic.
The prime minister said that no stone will be left unturned to safeguard national security and sovereignty.
He also appreciated the services and sacrifices of the ISI for the country.