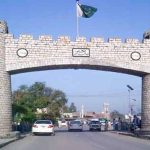 MULTAN: Foreign Minister Shah Mehmood Qureshi said on Saturday that there was no threat to the 18 Amendment, democracy or the constitution in the country.
Qureshi's statement comes as Pakistan Peoples Party (PPP) leaders including Chairman Bilawal Bhutto Zardari have been critical of the federal government not implementing the 18th Amendment. Bilawal has also stated that his party is ready for a long march to safeguard the 18th Amendment.
Speaking to reporters in Multan, Qureshi spoke on the recently announced Hajj policy, hoping that the maximum number of Pakistanis will be able to perform Hajj this year. "We want the maximum number of facilities to be provided to Hajjis."
Qureshi said if there was a deal it was between the PPP and PML-N, adding that the once quarrelling parties were now sitting together.
The foreign minister further said that only the nation had the right to make decisions in Pakistan and the nation had made its decision.