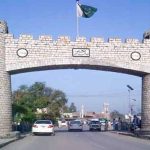 GILGIT: Minister for Planning and Development Ahsan Iqbal has said that there is absolutely no threat to the country, its system or the China-Pakistan Economic Corridor (CPEC).
He was speaking at CPEC seminar in Gilgit on Wednesday.
The Minister firmly stated that no foreign power can undermine CPEC as it has ownership of 200 million people of Pakistan. He said people consider it as a project for future of Pakistan.
Referring to the deliberations of the national leadership at CPEC summit in Islamabad, he said entire Pakistani leadership, political parties and the federating units on on one page as far as implementation of the Corridor project is concerned.
The Minister emphasized that instead of giving any weight to what our enemies say about CPEC, we should play a proactive role in its implementation. He said strategies should be firmed up to achieve all the goals under the umbrella of the Corridor.
Addressing the seminar, Chief Minister Gilgit Baltistan Hafiz Hafeez-ur-Rehman said progress and prosperity of Gilgit-Baltistan is linked with China-Pakistan Economic Corridor.
He said no conspiracy or hurdle in the way of CPEC will be tolerated. He pointed out that GB is the entry point of CPEC and all the parties in GB are supporting this mega project.
He said people of GB vehemently rejected the statement of Indian Prime Minister Narendra Modi. He said Indian Prime Minister is very perturbed over implementation of CPEC.
The Chief Minister appreciated Prime Minister Nawaz Sharif for putting the country on path of progress.