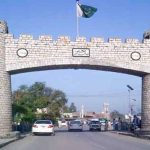 PESHAWAR: The Election Commission Khyber Pakthunkhwa accepted nomination papers of Noor Jehan cousin of Indian Boolywood icon Shahrukh Khan to contest the elections for the provincial legislature on general seat from Peshawar city due for July 25 this year.
The scrutiny of nomination papers of the candidates aspiring to the contest the polls will continue till June 19.
June 11 was the last date for filing of the nomination papers.
Noor Jehan contesting the elections as independent candidate from PK-77 constituency as she had been denied ticket by the Awami National Party (ANP) to which she remained associated since her birth.
She said her forefathers had association with the ANP since partition in 1947.
In a brief chat with APP she informed that she applied for the ANP ticket both for the general seat and seats reserved form women in the KP Assembly but she was denied the party ticket.
Therefore she decided to contest the polls in independent capacity.
She was upset over riots in India against Shah Rukh Khan only because his cousin taking part in the elections.
Shah Rukh is as loyal and honest to India as anybody else, she explained. It was unjust and unfair to target Shah Rukh Khan only because his cousin contesting elections in KP.
Whenever we talk on phone we discuss showbiz and cricketing and nothing more, she added.
Therefore Indian people should not demonstrate narrow mindedness in their attitude and behavior by resorting to protest and demonstrations on such petty matters.