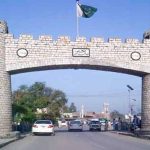 PESHAWAR: Score of elders of the Dande Darpakhel tribe of North Waziristan Agency (SWA) on Tuesday staged sit-ins in Peshawar and Bannu in protest against the suspension of the rehabilitation process.
The protest sit-ins were staged outside the Peshawar Press Club and Bannu Press Club respectively.
According to the protesters, the government had announced rehabilitation of Internally Displaced Persons (IDPs) of the agency. They alleged that all the displaced families except Dande Darpakhel tribe were repatriated to their respective areas during the repatriation process.
The protesters said that the political administration had also issued rehabilitation token to more than 2400 displaced families of Dande Darpakhel, migrated from their native areas to other parts of the country during the military offensive in the agency in 2014, but they are yet to be rehabilitated.
They also asked the administration to stop demolishing their houses in the area and looting items.
They warned to stage a sit-in federal capital if they were not rehabilitated before the start of the holy month of Ramazan.