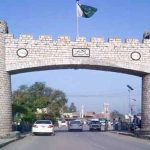 RAWALPINDI: At least two terrorists were killed in clashes with the security forces in North Waziristan tribal district, ISPR said.
According to ISPR, the security forces and terrorists exchanged firing in Esham area of North Waziristan district, in which two terrorists were killed. The ISPR added that the security forces also recovered huge quantity of weapons and explosive materials from the possession of the terrorist.
The ISPR maintained that the dead terrorists were involved in attacks on the security forces in the areas. The Pak army has resolved to eliminate terrorism completely, the ISPR concluded.