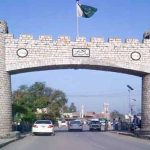 ISLAMABAD: A three-member bench of the Supreme Court (SC) on Friday adjourned hearing contempt of court case against Pakistan Muslim League-Nawaz (PML-N) leader Daniyal Aziz until March 6.
During today's proceedings, the PML-N leader was provided with the transcript of his speeches in which he had committed contempt of court.
Head of the SC's bench, Justice Sheikh Azmat Saeed asked lawyer of Daniyal Aziz as to which film they were showing today.
He added that a screen had also been installed for the film and asked the lawyer which movies had won the Oscar Award.
Upon this, the PML-N leader's lawyer informed the court that they had turned up to submit written reply to the court.
The Judge remarked that they had read their reply adding that the accused would be provided with the clip he was asking for.
He addressed Daniyal Aziz's lawyer and said, "Do not pull our legs. Do not play the game with us we have invented.
Shiekh Azmat Saeed also asked the lawyer whether or not he has a credit card and said that even a credit card had its limits.