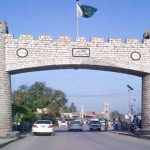 KARACHI: The police and Rangers have killed a notorious Lyari gang war leader Ghaffar Zikri and his accomplice known as Chota Zahid during a joint operation in Ali Muhammad area of the city.
Zikri's three-year-old son who he was using as a shield was also killed in the shootout which lasted for about 90 minutes.
DIG South Javed Alam Odho said two police officials were also injured in the operation adding that Sub Inspector Muhammad Ali was stated to be in critical condition who got shot in the stomach.
Odho said that the security forces conducted operation on a tipoff and were attacked by the gangsters with hand grenades and firing.
The security forces retaliated and killed the gangsters, said the DIG and added that Zikri's son was also killed in the operation.
He added that Zikri was using his son as a shield.
The DIG said that a huge cache of arms was also seized from the gang war leader's possession, including sub-machine guns (SMGs), hand grenades, bullets and magazines.
Zikri and his accomplice were one of the most wanted Lyari gang war leaders. Police said he had been booked in several cases for involvement in heinous crimes.
Zikri had a head money of Rs2.5 million.