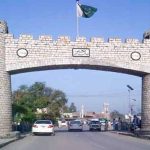 PESHAWAR: Governor Khyber Pakhtunkhwa Shah Farman has said that the tribal districts are now part of Khyber Pakhtunkhwa legally and administratively.
Shah Farman said that now tribal representatives would legislate for their areas and will play theor role in progress and development of their areas.
He said that they had abolished the Article 247. "Some parties had opposed the tribal areas' merger with Khyber Pakhtunkhwa. Now the people in tribal areas will have the power," he said.
Chief Minister Mahmood Khan said that a new history is about to be written. "The local bodies elections will also be held by December."
He said that a big change had occurred in tribal areas.
Special Assistant to Prime Minister Iftikhar Durrani said that it is a long process. "We are bringing a big area to the mainstream," he added.