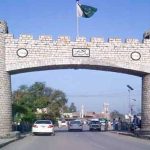 ISLAMABAD: Prime Minister Imran Khan chaired on Wednesday a meeting of the National Security Committee at the Prime Minister's Office, where important decisions regarding India-Pakistan ties were discussed following the Indian move to abolish Kashmir's special status.
PM Imran Khan summoned a second session of the NSC, within a week following the Indian move to scrap special status of occupied Kashmir.
The meeting was attended by Foreign Minister, Defence Minister, Interior Minister, Minister for Education, Minister for Human Rights, Minister for KA&GB, Law Minister, Adviser Finance, CJCSC, COAS, CAS, V-CNS, SAPM on Information, DG-ISI, DG-ISPR, Secretary Foreign Affairs and other senior officers, said an official press release.
The committee discussed the situation arising out of the unilateral and illegal actions by the Indian government, situation inside Indian occupied Jammu and Kashmir and along the Line of Control.
The press statement said that the Committee decided to take following actions:
1. Downgrading of diplomatic relations with India.
2. Suspension of bilateral trade with India.
3. Review of bilateral arrangements.
4. Matter to be taken to the United Nations, including the Security Council.
5. Independence Day, on 14 August, to be observed in solidarity with brave Kashmiris and their just struggle for their right of self-determination. 15th August will be observed as Black Day.
The official press statement after the NSC meeting said that the PM directed that all diplomatic channels be activated to expose brutal Indian racist regime, design and human rights violations.
During the meeting, PM Imran directed the armed forces to continue vigilance.
The NSC session under PM Imran took place today in the federal capital. In today's session, the top civil-military brass gathered to discuss the response strategy after the Indian government revoked Article 370.
In the meeting on Sunday, PM Imran said that Pakistan will effectively respond to any type of aggression or provocation from India with its people's support.
A briefing on the situation in Indian occupied Kashmir (IoK) was given during the NSC session, which was attended by the chairperson of the Joint Chiefs of Staff Committee (JCSC), the heads of all three armed forces, intelligence officials, federal ministers of defence, foreign affairs, and interior and the director-general of the Inter-Services Public Relations (ISPR) and the Inter-Services Intelligence (ISI).
PM Imran had convened a meeting of the NSC to discuss issues pertaining to the national security in the wake of cluster bomb attack carried out by India against civilians in Neelum Valley.
The Indian government on Monday rushed through a presidential decree to abolish Article 370 of the Constitution which grants special status to Indian occupied Kashmir, as tensions mounted in the disputed valley with unprecedented numbers of Indian troops deployed in the region.