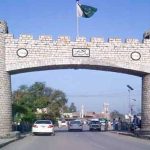 A meeting of the National Security Committee (NSC) scheduled for Wednesday has been postponed indefinitely.
Meanwhile, Prime Minister Shehbaz Sharif is set to address a press conference Tuesday evening.
Shehbaz Sharif had called the NSC meeting a day after audio clips, purportedly recording of the conversations inside the Prime Minister's House surfaced on social media. PTI's Fawad Chaudhry claimed that at least 8 GB of data had been made available on the darknet.
The NSC is the highest national security body in Pakistan and the chiefs of armed forces, as well as the director-general of the ISI, are its members.
Some of the federal ministers are also part of the meeting.
It was set to meet immediately after a cabinet meeting on Wednesday.
However, the NSC meeting has been postponed now, though the cabinet meeting will go ahead as planned.
Meanwhile, the prime minister has decided to hold a press conference Tuesday evening.
He will speak about financial issues faced by the country and his recent UN visit.