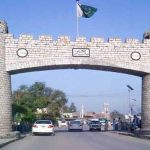 ISLAMABAD: The traders from North Waziristan Agency Friday ended their sit-in after successful talks with political administration of agency.
Hundreds of traders from North Waziristan Agency were protesting for acceptance of their demand for compensation for their destroyed shops in the agency. They had been protesting in front of the Islamabad Press Club for the last four days.
Political agent North Waziristan Agency, Taimur Khan, held talks with traders leaders. The political agent assured the traders that a survey would be carried out for ascertaining the damages and losses to the traders of the North Waziristan Agency. He assured the traders that they would be compensated after the survey.
The traders announced end to their protest after successful talks with the political administration of the agency.