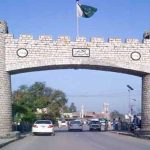 MIRAN SHAH: The tribal elders of North Waziristan Agency have once again assured their full support to the security forces to maintain peaceful atmosphere in the agency.
Addressing a grand tribal Jirga in the agency, tribal elders said they will always stand shoulder to shoulder with the security forces to foil the nefarious designs of those who want to disturb peaceful environment in the agency.
Speaking on the occasion, General Officer Commanding Major General Azhar Iqbal Abbasi said peace has been restored in the agency and a new era of development and prosperity has started.