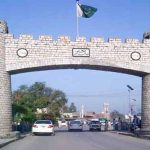 ISLAMAVBAD: The Oil and Gas Regulatory Authority (OGRA) has forwarded a summary to the Petroleum Devision today (Monday), seeking an increase of Rs14.37 per liter in petrol price from 1st May.
According to reports, Ogra has also proposed Rs4.89 per liter increase in price of high speed diesel, light diesel oil Rs6.40 and increase of Rs7.46 in kerosene price.
Prime Minister Imran Khan will give final approval on OGRA's recommendation, while the new prices would come into effect from May 1.
It is pertinent to mention here that the government on April 1 increased prices of all petroleum products by up to 6.45 per cent.
Petrol and diesel prices were increased by Rs6 per liter while kerosene and light diesel oil (LDO) were jacked up by Rs3 per liter.
With the decision, the ex-depot price of motor spirit (petrol) was fixed at Rs98.89 per liter, high speed diesel (HSD) was set at Rs117.43, kerosene oil was increased to Rs89.31 per litre and the ex-depot price of LDO was increased to Rs80.54 per litre.