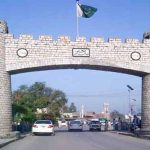 ISLAMABAD: The Oil and Gas Regulatory Authority (OGRA) has prepared a summary, recommending a hike in prices of the petroleum products with effect from November 1.
According to the summary, OGRA has proposed an increase in the price of high speed diesel by Rs6.69 per liter.
The summary further proposed a hike in petrol price by Rs0.85 per litre, light diesel by Rs4.47 and kerosene oil Rs3.94 per litre.
The summary will be forwarded to the Ministry of Petroleum for approval.