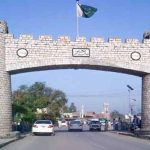 ISLAMABAD: Prices of petroleum goods are likely to be slashed by Rs. 4.00 per litre starting next month.
The Oil and Gas Regulatory Authority (OGRA) has recommended reduction in the petrol prices in its summary to the Ministry of Petroleum.
According to reports per litre cost of petroleum is likely to reduce by Rs. 3.30 per litre whereas the price of high speed diesel is expected to be brought down by Rs. 3.80 per litre.
Moreover, per litre cost of light diesel will be slashed by Rs. 2.10, the price of kerosene is likely to be reduced by Rs. 2.50 and the rate of the high octane fuel may be slashed by Rs. 4.00 per litre.
Prime Minister Nawaz Sharif will decide the matter of the revision of the petroleum prices on his return from the United States.
The federal government had decided to keep petrol prices unchanged last month.