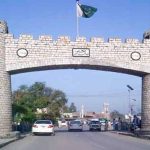 SINGAPORE: Oil prices tumbled more than a dollar on Tuesday as Iran and six global powers reached a nuclear deal that could see an easing of sanctions against Tehran and a gradual increase in its oil exports just as Asian economies showed further signs of weakness.
Iran and six major powers have reached a historic nuclear deal, which will grant Tehran sanctions relief in exchange for curbs on its nuclear programme, an Iranian diplomat said on Tuesday.
A spokeswoman for the European Union said that the foreign ministers of Iran and six major powers will meet for nuclear talks at 0830 GMT at the United Nations centre in Vienna to be followed by a news conference.
Front-month Brent crude futures dropped over 2 per cent and more than a dollar to $56.66 a barrel by 0637 GMT. United States crude was trading down $1.21 at $50.99 per barrel.
"Sanctions have crippled Iran's oil production, halving oil exports and severely limiting new development projects. The prospect of them being lifted is creating great excitement … as foreign trade and investment will allow Iran to make huge efficiencies and drive down the cost of production," said Sarosh Zaiwalla, a London-based sanctions lawyer.
Yet analysts say it would take Iran many months to fully ramp up its export capacity following any easing of sanctions.
But even a modest initial increase would be enough to pull international oil prices down further as the market is already producing around 2.5 million barrels per day above demand.
"The Iranian deal is unlikely to bring back large volumes of oil yet, given the removal of upstream sanctions is complex and significant investment is needed for raising output," Energy Aspects said on Tuesday.
Slowing Asia
Meanwhile, the outlook for some Asian economies dimmed further, potentially eroding oil demand.
China's economic growth is forecast to be the weakest since the 2008/2009 global financial crisis in the second quarter, which together with a stock market rout raises pressure on authorities to do more despite little pay-off so far from a run of stimulus steps.
"Fears of hard landing in China (are) on the rise again," Energy Aspects said, adding that it expected China's oil demand growth to be 300,000 barrels per day.
In Singapore, Asia's main oil trading hub and one of the region's biggest ports, the economy unexpectedly contracted in the second quarter as sluggish global demand knocked the city-state's manufacturing sector.
"Asian distillate markets have started showing fatigue … with Asian complex refining margins falling sharply to near breakeven levels," Energy Aspects said.