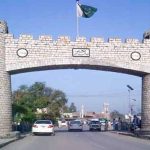 MANSEHRA: Another oil tanker has over turned in Mansehra and people, once again, filled drums, bottles, buckets and drums with the fuel.
As per the details, the incident occurred when the brakes of an oil tanker fail and the driver lost control of tanker transporting 10,000 litres oil.
Following the accident, locals reached the crashing site and began drawing fuel from the oil container.
No rescue team and authorities concerned reached the venue to keep the local away from the site despite the Bahawalpur oil-tanker explosion that claimed over 200 lives in June 2017.
It is pertinent here to mention that in June 2017, an overturned oil tanker exploded in a huge fireball killing more than 190 people, including many women and children, who had rushed to the site to collect fuel spilling from the crashed vehicle.
Crowds had flocked to the highway accident with jerry cans, buckets and other containers to get fuel from the tanker after it crashed – but it exploded about 10 minutes later, police said.
Residents of a nearby village had been told about the leaking fuel over a loudspeaker at a local mosque, senior local government official Rana Mohammad Saleem Afzal told state television.
Police had tried to seal off the area but became overwhelmed by the scores of people trying to reach the vehicle.
As the fire spread, many of those who died were holding containers full of fuel. Footage showed billowing clouds of black smoke, and the road littered with burnt out cars and motorbikes.
Most of the dead were local villagers who came by to look at the wrecked tanker and motorists who stopped and attempted to gather fuel in containers.
Officials said many of the victims – including children – were burnt beyond recognition and that DNA tests were being carried out to identify the dead, adding that the number of fatalities was likely to rise.
Around 140 others were injured in the explosion and were airlifted to nearby hospitals by army helicopters, 50 in a critical condition having suffered more than 80% burns to their bodies.