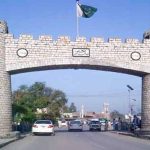 KARACHI: All Pakistan Oil Tankers Owners Association has announced to observe strike across the country from today (Monday) against 'cold shoulder' given to their demands by the Oil and Gas Regulatory Authority (Ogra).
The oil tankers association has taken to the strike mode after their demands were apparently overlooked by the Ogra, and resultantly supply of petroleum products across the country is likely to be affected, as the movement of more than 20,000 oil tankers in the country would be stopped.
In July this year, the All Pakistan Oil Tankers Owners Association (APOTOA) and Oil Tankers Contractors Association (OTCA) had jointly given a strike call that continued for over three days, disrupting the supply of petroleum products from Karachi to the entire country in protest against what they called stringent regulations relating to fitness of their vehicles and fines by the Motorway police.
The stringent regulations were placed on oil tankers after the OGra had blamed the association for failing to meet certain necessary requirements for their tankers including fitness certificates.
More than 200 people were burnt to death and dozens of others injured after a fuel tanker overturned and exploded outside Bahawalpur in Punjab province June.