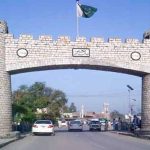 UPPER DIR: Three children were killed while six others sustained injuries when unidentified gunmen opened fire at a house in Siddiq Banda (village) of Upper Dir.
According to local police, the gunmen stormed the house of Fateh Khan in Siddiq Banda and killed three children on the spot while injuring six others including a woman.
The injured people – who were said to be in critical condition – have been shifted to District Headquarters Hospital for medical assistance.
The police added that incident happened because of an old enmity saying they have registered a case against the culprits and kicked off investigations.