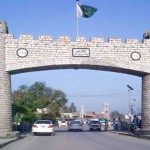 Oman will suspend entry to arrivals from Pakistan, India and Bangladesh starting April 24, as part of measures to contain the Covid-19 pandemic, Omani state TV reported on Wednesday.
The decision was taken by the country's Supreme Committee to curb the spread of novel coronavirus Covid-19, according to Khaleej Media.
According to a statement, the ban would also be applicable on those passengers as well who transitioned through these three countries during the last 24 hours.
"This will come into effect starting at 6pm on April 24, 2021, until further notice," it added.
The country exempted passenger arriving who are Omani citizens, diplomats, health workers and their families from the ban.
"The exempted groups will undergo the prescribed entry procedures when they reach the Sultanate's land," it further said.
Pakistan, India and Bangladesh have seen a surge in coronavirus cases in the recent past — fuelled by new variants of the deadly virus.
India is currently recording more new cases of the novel coronavirus than any other country. The world's second most populous nation reported 295,041 new infections on Wednesday for the world's highest daily rise, stretching its hospitals to breaking point.