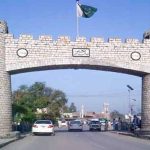 PESHAWAR: An alleged extortionist was killed and five others were arrested during an operation carried out by the Counter-Terrorism Department (CTD) in Tellaband area of Peshawar.
According to statement issued by the CTD on Wednesday said that the killed and arrested extortionists were associated with terrorist outlet Tehreek-e-Taliban Pakistan and were involved in extortion from people.
According to CTD officials, two to three accomplices managed to escape from the spot. The terrorists belonged to a banned organization. Two Kalashnikovs, six hand grenades, two pistols and cartridges were recovered from the extortionists.
Legal action has been initiated against the arrested persons, CTD officials told.