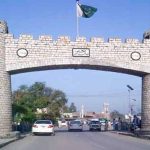 PINDI BHATTIAN: One person was killed and 25 other were wounded in a Motorway M2 collision involving 15 vehicles in Pindi Bhattian on Monday.
The huge pile-up occurred in dense fog near Sial More where 15 vehicles going to Islamabad from Lahore in a caravan due to foggy condition collided with each other due to low visibility, killing one person on the spot and injuring 25 other.
Rescue teams shifted the injured to Tehsil Headquarters Hospital. Three of the seriously injured persons were later shifted to Allied Hospital Faisalabad.