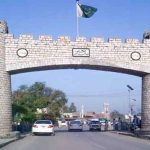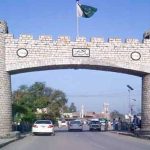 PESHAWAR: At least one person was killed and four injured in a suicide attack near Hayatabad Medical Complex on Wednesday.
Briefing the media, after suicide bomber targeted a van of the judicial officials, the CCPO Tahir Khan said that one driver was killed while four people including three women were injured in the attack. He claimed that the condition of the injured stable. He said that there was no police security with the judges. He said that about 15 kg explosives were used in the explosion.
The injured were identified as Rabia Abbas, Tehrima, Amna and Asif Jadoon. According to hospital administration, the injured in stable condition. The driver was identified as Khurshid.
According to police, a suicide bomber who was riding a motorcycle blew himself up near the Hayatabad Medical Complex. Police cordoned off the area, while the injured were shifted to the hospital.
Information minister Mushtaq Ghani said that a civil judge also sustained injuries in the explosion. He said that PTI chief Imran Khan was due to pass through this route and attend a function at Hayatabad Medical complex.
According to SSP operation Sajad Khan, civil judge Asif Jadoon also injured in the attack.