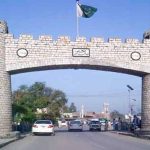 LANDI KOTAL: The Pak-Afghan border were closed on Friday after a blast on Pakistani side of the Torkham check post at the Pak-Afghan border killing one and injuring three others.
Sources said that the explosives were planted on a handcart which detonated at the main crossing gate of the Torkham border in Khyber tribal region.
Security and emergency teams were despatched to the blast site.
The rush of pedestrians and movement of vehicles on both sides of the border were hampered due to the blast.