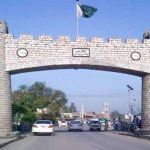 WANNA: At least one person was killed and three others sustained injuries when a hand grenade exploded in Ladha Tehsil of South Waziristan Agency (SWA).
According to sources, a hand grenade was hurled at a house in Sararogha area of Ladha on Tuesday night.
The sources said that one person was killed and three others injured in when the grenade exploded.
The injured persons included a woman and two children who were shifted to hospital for medical assistance, sources added.
They said that the deceased and injured people belonged to a single family.
Meanwhile, political administration has kicked off investigations.