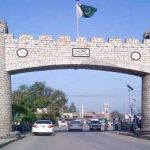 ISLAMABAD: Chairman Federal Board of Revenue (FBR) Shabbar Zaidi has said that the sales tax unregistered industrial units can get themselves registered by paying two percent tax, benefiting from Asset Declaration Scheme by June this year.
Addressing a news conference in Islamabad on Wednesday, he said the government will make legislation and take steps against the sales tax unregistered manufactures from July this year.
The Chairman FBR said there are 341,000 electricity and 7,000 gas industrial consumers, but only 38,000 industrial units are registered in sales tax. He added that less than 50,000 of the 100,000 companies registered with the Security and Exchange Commission of Pakistan (SECP) were filing their taxes.
Shabbar Zaidi said he had informed the SECP chairman of this, adding that the law states companies had to pay their taxes irrespective of not having an income and being non-operational.
"I have spoken the SECP chairman, either he will remove the company or I will remove it," Zaidi said.
Shabbar Zaidi said the government wants to facilitate the business community while enhancing the tax net. He said industries should get themselves registered in sales tax. He said no complaint of harassment has been received about payment of taxes.
The FBR chairman dismissed reports that the law pertaining to accounts being frozen had been changed.
Shabbar Zaidi said he had received complaints that peoples accounts were being frozen without notices issued. The FBR chairman added that he had issued directives that notices should be issued 24 hours prior.