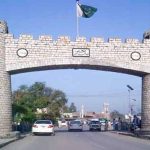 ISLAMABAD: Prime Minister Imran Khan on Friday has said that the one who does not take u-turn in accordance with the situation is not a leader.
Talking to media in Islamabad on Friday, PM Khan said that Shehbaz Sharif did not qualify for the post of chairman Public Accounts Committee (PAC) for he was facing corruption charges.
Imran Khan said that the appointment of Shehbaz Sharif as PAC chairman would convey a negative image of Pakistan to the world.
PM Khan also advised the National Accountability Bureau (NAB) to make influential corrupt personalities, accountable.