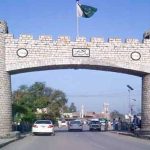 ISLAMABAD: Chief Justice of Pakistan (CJP) Justice Mian Saqib Nisar on Friday said that only dams can overcome shortage of water.
In an interview on Friday, he said that Pakistan urgently need dams as we are not getting enough water under the Indus Water Treaty (IWT), adding that only dams can overcome shortage of water.
He said that he came to know during hearings that the underground water level has declined to alarmingly low.
The CJP said that the reasons why dams were not constructed cannot be shared with the public, however, not constructing dams was a criminal negligence, while the reasons for not constructing dams should also be reviewed.
Justice Nisar went on to say that there was no way other than the construction of dam to save future generations, adding that masses played important role for the dam funds.
"Overseas Pakistanis have helped their country in all circumstances," he said and added I truly value their sentiments.
Earlier, the top judge while summoning finance and power ministers and cabinet secretary on January 15 said that he wanted to resolve the matter of Nai Gaj Dam in his tenure but some wishes remain unfulfilled.
Responding to the wish of CJP Nisar to conclude the case in his tenure, Justice Ijaz-ul-Ahsan said that we still have one week to complete the hearing.
Previously, the federal and provincial government had expressed disagreement on shared financing of the Rs46.5 billion Nai Gaj dam and established a committee to lessen its cost.