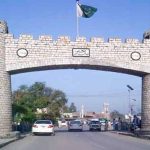 PESHAWAR: The joint opposition in Khyber Pakhtunkwha Assembly has nominated ANP's Liaq Mohammad Khan as candidate for speaker Khyber Pakhtunkhwa Assembly.
The decision was taken during a meeting of the joint opposition which was attended by leaders of the ANP, PPP, JUI-F, PML-N and others.
The deputy speaker post was given to the PML-N , while the MMA would nominate its candidate for leader of the house.