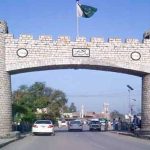 ISLAMBAD: Central leader of MMA and member of the opposition parties' action committee, Liaquat Baloch has said that the opposition parties have finalized the names of candidates for the posts prime minister, speaker and deputy speaker.
He said that the names of candidates of the opposition parties would not be disclosed before the elections for the top posts.
The meeting was held at residence of speaker Ayaz Sadiq, which was attended by all members of the action committee.
Meanwhile, the PML-N has informed the joint opposition that Mian Shahbaz Sharif would be opposition leader in the National Assembly.