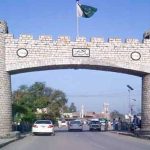 PESHAWAR: Leader of Opposition in Khyber Pakhtunkhwa Assembly, Moulana Lutf-ur-Rehman Wednesday regretted role of Deputy Speaker, Mehr Taj Roghani in running the affairs of provincial legislature.
Speaking on point of order, Lutf-ur-Rehman, regretted behavior of Deputy Speaker and said that assembly is a forum where important matters of serious implications are discussed by legislatures. He said it is binding upon all the members to respect its decorum and significance.
He said that it is duty of 'House Custodian' that all its members are ensured their due rights, and position keeping in view worth of the house.
On the occasion, Speaker Assad Qaisar who was chairing the proceedings assured strict observance of rules and regulation in running KP assembly.
Clarifying her position, Deputy Speaker, Dr Mehr Taj Roghani also accorded assurance to follow assembly's rules, however she said that if anything is available on record against him regarding ignoring prescribed procedure it should be brought forward.
It merits a mention here that opposition members staged a walkout from the house over impartiality of Deputy Speaker, Dr Mehr Taj in referring a question to standing committee in last proceedings of the current session.