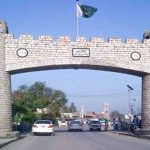 ISLAMABAD: The United Opposition has rejected the federal budget outright and announced to fight against the government on all fronts.
Pakistan Peoples Party (PPP) Chairman Bilawal Bhutto Zardari while addressing a press conference along with other opposition leaders has said that the budget meeting of the joint opposition was held and all political parties has rejected the budget. The budget has turned the whole of Pakistan against the government, he added.
He said that the government had issued an illegal notification of petroleum levy and even before the budget was passed, more tax was levied than the price of petrol.
Bilawal Bhutto said that the opposition is in a strong position at present and the supporters of government would not stand with the government anymore.
Bilawal said that the Pakistan Tehreek-e-Insaf ( PTI) government lacks the capacity to solve national and public issues. This is a matter of survival of the nation, so the unity of the opposition is stronger than ever. Shehbaz Sharif is making the prime minister sweat even while he is ill, he added.
He said that the opposition was playing responsible politics. Imran Khan s being the Prime Minister is endangering the economy and health of every Pakistani. Opposition will now play an important role in important national affairs.
Talking to media persons during the press conference on the occasion, Pakistan Muslim League Nawaz (PML-N) leader Khawaja Asif said that the country needs a new mandate at present as this is the only solution to the people s problems. The constitutional way is to get a new mandate, he added.
Khawaja Asif said that opposition would use every constitutional option, not unconstitutional, to dismiss the government. The cowardly ruler is using institutions to satisfy his ego and now the time has come for them to be held accountable. Allies of the government are also leaving as the government is on its last leg.
The PML-N leader said that they would fight against the budget on all fronts. The united opposition will adopt a joint strategy against the budget. The longer Imran Khan stays in office, the more disaster there will be. Pakistan can be saved by getting rid of Imran Khan, he stressed.
He feared that gas and electricity prices would rise in the coming days. The storm of inflation will be unbearable for the people and in these circumstances, it was expected that some relief would be given to the people but an unbearable burden was placed on the people.
Talking on the occasion, senior leader of Jamiat Ulema-e-Islam (JUI-F) Akram Khan Durrani said that the Prime Minister has made the people scream and inflation will rise after the budget. He urged for media Support to get rid of the government.