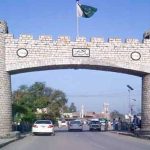 ISLAMABAD: Information minister Shibli Faraz on Saturday said that Prime Minister Imran Khan is not one to yield to any sort of pressure (from his political opponents).
He was addressing a press conference in Islamabad alongside Chairman Prime Minister's Inspection Commission Ahmad Yar Hiraj.
His remarks follow a multi-conference organised by JUI-F chief Maulana Fazl-ur-Rehman and a meeting a day earlier between him and the top PPP leadership.
Both sides, in the meeting, agreed to work together "for the sake of national integrity and the country's survival". They also agreed to adopt a tough stance on the National Finance Commission (NFC) award and the 18th Amendment to the Constitution, with PPP chairman Bilawal Bhutto Zardari saying "Pakistan and Imran Khan cannot go hand in hand".
The NFC award announced this year has seen cuts in the share awarded to Sindh, whereas the 18th Amendment is being eyed for a review by the PTI. The Amendment grants provinces greater administrative and fiscal authority and was forged through a consensus during the PPP era.
Faraz, in his briefing to the media today, said that there is "no chance" the opposition parties will come back to power.
"The Tehreek-i-Insaf government will not let them off the hook," he said.