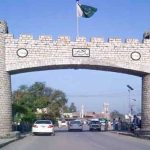 ISLAMABAD: A meeting of opposition leaders would be held on Sunday at Zardari house on the invitation of Pakistan Peoples' Party (PPP) chairman Bilawal Bhutto to ponder over the matters pertaining soaring inflation, economic crisis and IMF package.
The vice president of PML-N Maryam Nawaz will also attend the meeting as she has accepted the invitation for iftar dinner by Bilawal Bhutto.
Bilawal Bhutto along with his sister Asifa Bhutto would welcome Maryam Nawaz. PPP core committee members would also attend the meeting.
The PPP chairman had also contacted Jamiat Ulema-e-Islam-Fazl (JUI-F) chief Moulana Fazlur Rehman, Awami National Party (ANP) chief Asfandyar Wali, Mahmood Khan Achakzai, Akhtar Mengal and Jamat-e-Islami (JI) chief Sirajul Haq and invited them for iftar dinner.
Aftab Sherpao and Awais Shah Norani were also invited for the dinner.
The iftar dinner would be followed by a press briefing by joint opposition.Sources said that Bilawal Bhutto has played an important role to bring the opposition on the same page. Sunday's iftar dinner could prove an important step for the protest movement against PTI's Government.