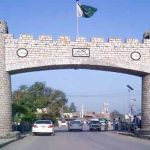 ISLAMABAD: Opposition parties on Thursday staged protest outside the Parliament House in Islamabad against continuous detentions and non-issuance of production orders of the detainees.
According to details, the opposition has set up a camp outside the parliament and said that new phase of media trial has started against them.
The opposition members said that they are not afraid of jails.
The parliamentarians from the opposition also called for the issuance of production orders of members from the National Assembly and Senate who have been arrested by NAB.
The members who are protesting include senior members from the Pakistan Muslim League – Nawaz (PML-N) and the PPP. The protesters also donned black arm bands to highlight their cause.
National Assembly Deputy Speaker Qasim Suri had earlier informed the Lower House that NAB had taken the Speaker into confidence about the arrest of Shah today.
Speaking during the Assembly session earlier today, PTI leader Murad Saaed mocked the black arm bands worn by the members of the opposition.
Saeed said that the opposition was only trying to point-score with their protest, while ignoring real issues like the one of Indian-occupied Kashmir.
PML-N leader Khawaja Asif, while speaking outside the parliament, criticised the arrest of Shah, elaborating that the PPP leader was arrested during the assembly session yesterday.
"It seems like the loyalty to party if affecting the oath to office of the National Assembly speaker," Asif was quoted as saying by Geo News. Asif also warned that political tensions could escalate sharply.