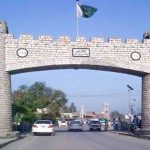 ISLAMABAD: The opposition parties decided to bring a no-confidence motion against Senate Chairman Sadiq Sanjrani in the All Parties Conference convened on Wednesday.
According to private news channel citing sources, the opposition's steering committee will decide the new member to be put for Senate Chairman's candidacy.
Meanwhile, reports stated that the Pakistan Peoples Party (PPP) and the Pakistan Muslim League-Nawaz (PML-N) have rejected the proposal of mass resignations from the assemblies put forwarded by Jamiat Ulema-e-Islam (Fazl) leader Maulana Fazl ur Rehman.
The representatives of both the parties reiterated that resignations won't resolve the mass issues, and the opposition won't have the opportunity to give its point of view outside the parliament.
The opposition has decided to launch a movement against the government and will constitute a steering committee for it. The APC members have decided to mark July 25 as black day to mark their protest against alleged rigging in the last election.