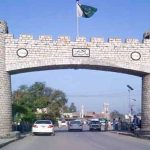 ISLAMABAD: The opposition parties have decided to review the offer for talks put forth by the government committee, advising Jamiat Ulema-e-Islam-Fazl (JUI-F) chief Maulana Fazlur Rehman to call a meeting to decide whether to hold talks with the government or not.
Sources in the opposition said a meeting of the opposition parties would soon be held in Islamabad to decide whether to hold talks with the government or not and devise a strategy for the October 31 Azadi march.
On the other hand, the government is examining other options, including arresting opposition leaders, in case they move ahead with the protest. However, it is being said that the government would try till the very end to resolve the issue with the opposition through dialogue.
The government committee formed by the prime minister to hold talks with the opposition parties would talk directly with the leadership of the JUI-F, PPP, PML-N, ANP and other parties to examine their demands.
The government committee had backdoor contacts with these parties and sent a message that it wants to hold talks with them.
The message offered the opposition the possibility of holding talks with the government committee individually or jointly or in the form of a joint committee.
Choosing time and place of the meeting was left up to the opposition parties to decide.
In the backdoor message, it has also been declared that if the opposition decided to hold a peaceful march, the government would not put any obstacles in its way.
It has been learnt from important PTI sources that the government committee was examining different options in consultation for talks with the opposition. It has been decided that the committee would hold direct talks with the leaders of the opposition parties, including Asfand Yar Wali Khan, Bilawal Bhutto Zardari, Shehbaz Sharif and other leaders to learn about their demands and reservations.
If the Maulana declines to attend the meeting, the other opposition leaders would be urged to convince Fazl to hold talks with the government.
Sources in the PTI said a message had been sent to all opposition parties, including the JUI-F, to hold talks with the government committee and now a reply was awaited.
The government team has for the time being adopted a strategy of backdoor contacts with the opposition and in this regard some elements of the government were busy in contacting the opposition.
The government team was hopeful that talks would soon be held with the opposition.
In case talks fail or are not held, the government would form a strategy to deal with the JUI-F's Azadi march that would move towards Islamabad on October 31.