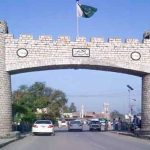 ISLAMABAD: The opposition once again walked out of the National Assembly proceedings on Thursday as the FATA Reforms Bill remained out of the agenda for yet another session.
Speaker NA Ayaz Sadiq postponed the session on indication of the quorum, after leaders from the Pakistan Peoples' Party (PPP) and other opposition parties staged walkout from the session.
Speaking at the House, Minister for States and Frontier Regions Abdul Qadir Baloch said the government remained committed to implement the FATA reforms.
"The FATA reforms will be implemented in accordance with the wishes of the region's citizens," he vowed.
The issue of the Federally Administered Tribal Areas' (FATA) merger with Khyber Pakhtunkhwa is one of the pending matters for the incumbent government and has dominated the political discourse of the country in recent weeks.