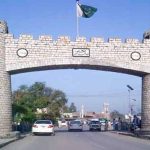 RAWALPINDI: Pakistan Army has claimed to have killed over 100 terrorists during intelligence based and combing operations across the country including Punjab during last 24 hours.
In a statement DG ISPR said that as ordered by Chief of Army Staff General Qamar Javed Bajwa, response to recent terror incident was in progress across the country. He said that IBOs and combing operation was in progress across the country including Punjab. He said that over 100 terrorists have been killed since last night and sizeable apprehensions were also made. He said that the intelligence agencies were making progress to unearth networks behind the recent terror attacks.
He said that there are linkages of support for these incident from across the border, adding that the border has been closed since last night due to security reason. He said that no cross border/ unauthorized entry will be allowed to Pakistan from Afghanistan. The security forces have been given special orders in this regard to have strict watch all along the border.
Th said that terrorists' hideouts on Pak-Afghan border have been effectively targeted.
According to ISPR, the COAS said, "Army is for security of people of Pakistan against all types of threat. "He said that the nation should stay steadfast with full confidence in their security forces. We shall not let the hostile agenda succeed whatever it may cost", he added.