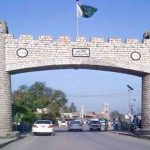 MOZAMBIQUE: Cyclone Idai has caused immense destruction to more than 120 who have lost their lives in the wake of the attack in Mozambique and Zimbabwe and still more are missing.
Due to storm and floods, some 65 have been reported dead in Zimbabwe and 62 in Mozambique and many more remain missing. In the affected areas, a number of houses and bridges have been swept away by the disastrous floods.
Idai hit Mozambique first before moving to Zimbabwe.
The cyclone tore across the region of Zimbabwe and Mozambique on Saturday.