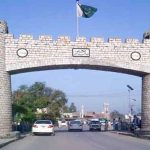 ISLAMABAD: The Public Accounts Committee on Tuesday demanded a report within a month over the matter of Panama Leaks from relevant authorities.
During the session, Opposition leader Khursheed Shah said that it has been revealed that more than 400 Pakistanis own over 250 offshore companies He asked what the relevant authorities have done so far in this regard.
During the session, Pakistan Muslim League-Nawaz's (PML-N) leader Rohail Asghar said that the head of the national institutions should also inquire about the companies that were made during the era of 80s.
Khursheed Shah retorted that it does not matter whether the issue is from 90s or 80s, one should look objectively into the matter, putting aside political affiliations.
The PAC session was held over the issue of Panama Leaks. On the matter, Chairman Federal Board of Revenue Nisar Mohammad said that 221 people have sent notices to date.
He further said that the FBR is awaiting the response of the notices sent, adding that those who made offshore companies abroad after paying taxes will not be considered criminals.
Leaked confidential documents spanning over nearly 40 years spelled out the extensive use of tax havens by politicians, world leaders, and celebrities to launder money and evade taxes through one of the most secretive companies the Panamaian law firm Mossack Fonseca.
The leaked documents had captured global attention, uncovering among other things the use of off-shore businesses by wealthy individuals and corporations worldwide.
While such off-shore companies are often not illegal per se, their use spurs suspicions of illegal activity, such as money-laundering, corruption, and tax evasion.