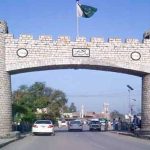 ISLAMABAD: On 70th Independence anniversary of the country, Pakistan Air Force along with aerobatic teams from Turkey and Saudi Arabia are performing an air show in federal capital today (Monday).
The event is being held at the Fatima Jinnah Park with regard to the Independence Day.
President Mamnoon Hussain, Air Chief Marshal Sohail Aman, senior civil and military dignitaries besides a large number of people are attending the event.
The special appearance of "Solo Turk", the famous Turkish aerobatic team of Turkish Air Force and the internationally acclaimed "Saudi Hawks" of Royal Saudi Air Force alongside PAF aircraft adds colours to the mega event.
The JF-17 Thunder will also perform besides the two teams from brotherly countries, Another salient feature of the show is the Tri-Services free fall display of Special Services personnel.
Mirage, SAAB-2000, and Augusta-139 from PAF and MI-17 and PUMA helicopters from Army Aviation would also perform in the show.
F-16, PAF aerobatics team Sherdil, P-3C Orion, Z-9, Alouette-III and Sea King helicopters would also perform at Sea View in Karachi.